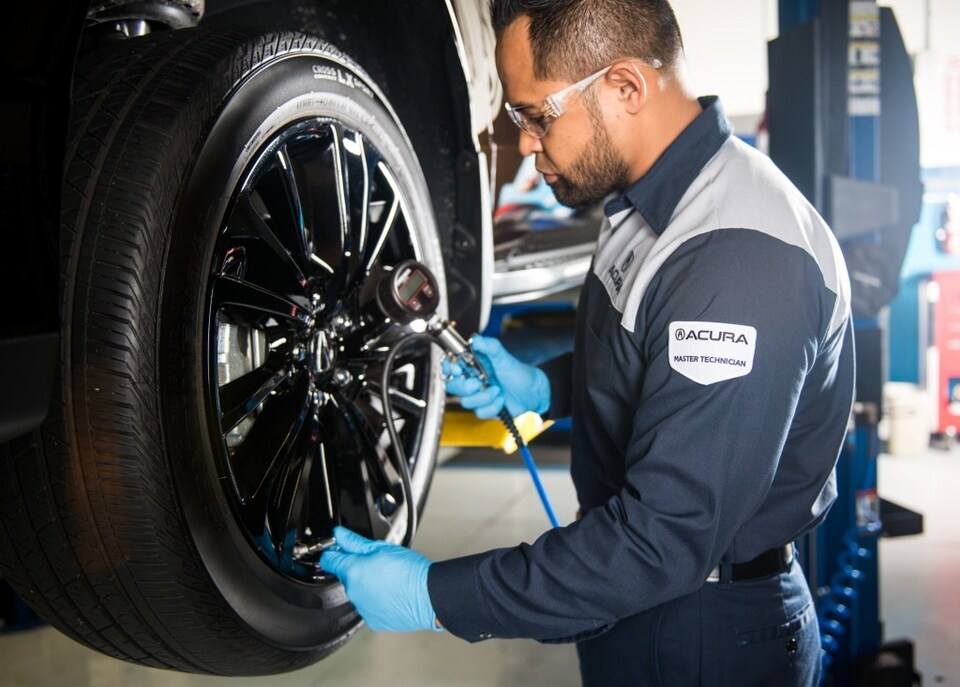 Nitrogen Tires: What You Need to Know
Tires are the only part of your vehicle that touches the road. That alone makes both your tires of choice and tire care incredibly important. When you go shopping for tires, you might assume that air-filled tires are your only option. However, there is another option that is growing in popularity we at Acura of Pleasanton want you to know about: nitrogen-filled tires. If you are wondering if you should make the switch to nitrogen tires, keep reading to learn more about them and the benefits they can provide.
What are Nitrogen Tires?
Nitrogen tires are tires that are filled with nitrogen instead of regular air.
How Does Nitrogen Gas Differ From Regular Air Used to Fill Tires?
Usually, you refill your tires with compressed air, which is the same as the air you breathe. That air is a combination of about 78 percent nitrogen, 21 percent, oxygen, and about one percent carbon dioxide, water vapor, and trace amounts of other gasses. While regular air has a nitrogen content of about 78 percent, when you fill your tires with nitrogen, that number jumps to between 93 percent and 95 percent.
Nitrogen is a dry, inert gas. Filling tires with nitrogen displaces water vapor, which even in trace amounts can expand when heated
The Benefits of Nitrogen Tires
There are plenty of potential benefits to filling your tires with nitrogen. For starters, nitrogen is up to 74 percent more effective at maintaining ideal tire pressure than regular compressed air. Losing air tire pressure is a significant risk for drivers, and up to one in four cars in the United States have at least one tire that is significantly underinflated. Underinflated tires are more prone to blowouts, which can be exceedingly dangerous.
When tires maintain correct pressure, they also experience a longer lifespan. Nitrogen-filled tires have an average lifespan that is 31 percent longer than tires filled with compressed air.
Nitrogen-filled tires also experience 70 percent less rolling resistance than tires filled with compressed air. This provides smoother driving and further improves tire life expectancy.
How Much Does it Cost to Fill My Tires with Nitrogen?
If you are filling up a brand new set of tires with nitrogen, it might cost you between $70 to about $175, depending on where you get your tires filled. If you are emptying your current tires of regular air to then refill them with nitrogen, that might add about $30 per tire. Topping off your already nitrogen-filled tires might cost about five to seven dollars per tire.
While this is substantially more expensive than filling up tires for free or with spare change with compressed air, the cost can be offset by reduced maintenance and less-frequent tire replacement. Filling your tires with nitrogen might also save you money on gas. Tires with correct pressure will always be more fuel-efficient than underinflated tires, and nitrogen tires maintain pressure better than tires filled with regular compressed air.
Does Nitrogen Prevent Tire Rot?
Because nitrogen is a dry gas, you might assume that it prevents tire rot better than compressed air, which contains water vapor. However, tire rubber rot caused by moisture is quite rare. Nitrogen never hurts your tires, but odds are your tires won't undergo rot from water vapor one way or another.
Can I Top Off My Nitrogen-Filled Tires with Compressed Air?
Yes. You should never drive with underinflated tires. If your nitrogen-filled tires are ever underinflated, you should refill them immediately and use compressed air if that is the quickest option.
Learn More About Nitrogen Tires Today
Whether you are interested in filling your tires with nitrogen or need a different type of service like oil changes then contact Acura of Pleasanton today!
Hours
Monday

9:00AM - 7:00PM

Tuesday

9:00AM - 7:00PM

Wednesday

9:00AM - 7:00PM

Thursday

9:00AM - 7:00PM

Friday

9:00AM - 7:00PM

Saturday

9:00AM - 6:00PM

Sunday

12:00PM - 5:00PM
Make an Inquiry
* Indicates a required field